Face masks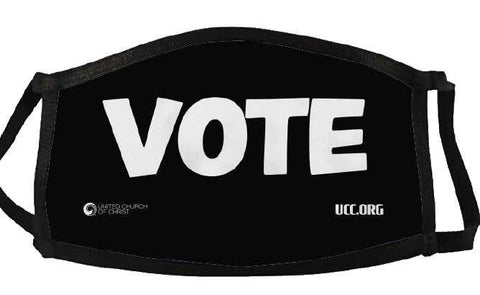 Sale
+ CLICK IMAGES TO ZOOM

UCC Face Masks
Stay healthy during the pandemic and make a statement with these comfortable masks. Stand in support of the Black Lives Matter movement, work toward peace, and remind others how important it is to vote in the general election this fall. Ideal for everyday use or when among peaceful protesters at rallies and marches.
Masks are constructed of three layers of breathable material, and ear loops that surround the ear to give a secure hold.  Machine washable, hang to dry.  These are non-medical grade masks.

We may have to wear masks, but we don't have to hide who we are. Be the church as we pray for rapid resolution to the pandemic and the safety of family, friends, and those on the front lines.

Mask will have the UCC logo and url.

$3.99 Single


Front Fabric Layer: 93% polyester+7% spandex.
Back & Inside Fabric Layers: 95% cotton +5% spandex.
Produced in the US.

Proceeds from sales support the mission of the United Church of Christ and fund the National Setting's ability to continue to respond to the ongoing needs of the church in these times of pandemic.

This item is non-returnable.

Email us 24/7/365 at store@ucc.org with any questions.
Copyright © 2023 UCC Resources. All Rights Reserved. All prices USD.


Privacy Policy