Cathedral on Fire (Second Printing) | a church handbook for the climate crisis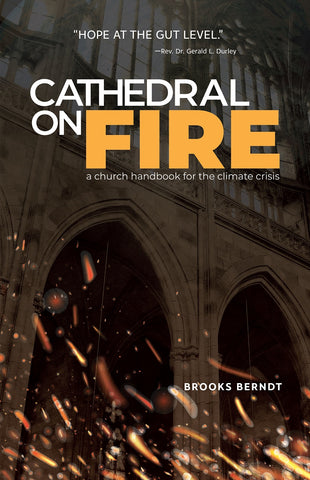 Sale
+ CLICK IMAGE TO ZOOM
The urgency of the climate crisis requires that we act as if our cathedrals and churches are on fire. Indeed, God's creation can be seen as one grand cathedral on fire with burning forests and rising temperatures. Amid this dire situation, Brooks Berndt focuses our attention on the unique and vitally needed gifts that churches can offer. He writes with poetic passion but also with an eye toward the practical as every chapter ends with suggested, field-tested actions.

Chapters in the book explore the following areas in which churches possess immense potential:
a commitment to care for God's creation as our first calling
a scriptural basis in pursuing justice for a planet and its people
a moral foundation for understanding the climate crisis as an inequality crisis
a powerful, sacred language for articulating what fundamentally motivates people to act
a hope-giving history found in the faith leaders who launched the environmental justice movement
a rich tradition of theology in times of crisis
a countercultural ethic of generational justice found in the Bible

a recognition of youth as the climate prophets of today

New preface with second printing.
Click here for a sample.

$6.95 Single Copy
$25.00 pack of 5

PDF $5.00

Email us 24/7/365 at store@ucc.org with any questions.
Copyright © 2023 UCC Resources. All Rights Reserved. All prices USD.


Privacy Policy