Be the Church - Yard Sign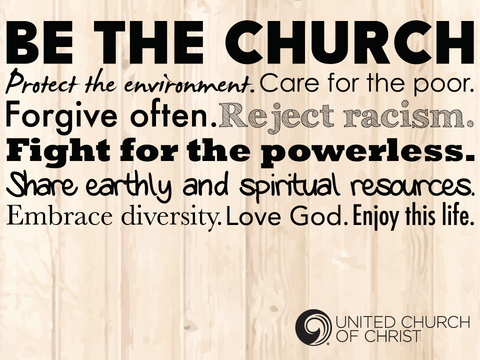 Sale
+ CLICK IMAGE TO ZOOM
Sorry, this product is permanently out of stock.
Have your church "Be the Church" at all times with this yard sign.
10 bold statements that describe what it means to "Be the Church":

Be the Church
Protect the environment.
Care for the poor.
Forgive Often.
Reject Racism.
Fight for the powerless.
Share earthly and spiritual resources.
Embrace diversity.
Love God.
Enjoy this life.
Click here for all "Be the Church" merchandise.
2 Sided   24" x 18" Corrugated plastic yard sign, stake is not included.
Proceeds from sales support the mission of the United Church of Christ and fund the National Setting's ability to continue the justice and other national ministries of the church.
Email us 24/7/365 at store@ucc.org with any questions.
Copyright © 2023 UCC Resources. All Rights Reserved. All prices USD.


Privacy Policy