Our Whole Lives (OWL) Curriculum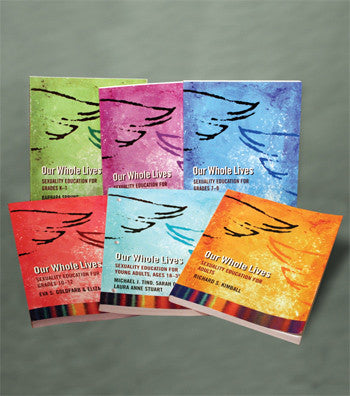 Sale
+ CLICK IMAGES TO ZOOM

















Our Whole Lives helps participants make informed and responsible decisions about their sexual health and behavior. It equips participants with accurate, age-appropriate information in six subject areas: human development, relationships, personal skills, sexual behavior, sexual health, and society and culture. Grounded in a holistic view of sexuality, Our Whole Lives not only provides facts about anatomy and human development, but also helps participants clarify their values, build interpersonal skills, and understand the spiritual, emotional, and social aspects of sexuality. Developed by the Unitarian Universalist Association and the United Church of Christ.
Please choose the level(s) you would like to purchase from the drop-down menu above.
For Sexuality and Our Faith materials, click here

Now available. Our Whole Lives Sexuality Education for Grades K-1, 2nd Edition. This second edition of Our Whole Lives for Grades K-1 offers new and expansive ways of addressing gender identity and roles, sexual orientation, race, ability, and more for young children and their families.
Thank you for your interest in Our Whole Lives materials. We appreciate your inquiry. Unfortunately, the following materials are currently out of print or running low on stock
Our Whole Lives for Grades 10-12 (Out of Print)



We are in the process of revising these manuals and expect the revised editions to be available in early 2024. In the meantime, please contact owl@ucc.org for Recommended Updates to the curriculua, should you already have access to a 1st edition of the manuals: 

​Thank you for your patience. If you have any questions, please reach out to Amy Johnson, Minister for Sexuality Education and Justice at JohnsonA@ucc.org.
Our Whole Lives includes the following resources:
Our Whole Lives K-1: This second edition of Our Whole Lives, K-1 offers new and expansive ways of addressing gender identity and roles, sexual orientation, race, ability, and more for children and their families.

Bundle - 8 books
All the storybooks needed for Our Whole Lives for Grades K-1, 2nd edition in one bundle! Save 15 % when you purchase them all in this bundle. 8 books below:  $123.94
The Bare Naked Book by Kathy Stinson, 2021
This loosely rhyming book celebrates a bodies with different colors, shapes and sizes, and normalizes diversity.  Uses the term "genitals" so adult readers can use terms that work with their child's body and identity. $21.95

Neither by Airlie Anderson
This is a story about not fitting in that begins in the Land of This and That where one has to choose one of two identities, until a creature is born that declares itself Both. Being Both is unacceptable, so Both is declared Neither and should find Somewhere Else. Eventually Both finds The Land of All, where all  are welcome.  $16.99

More Than Fluff by Madeline Valentine
A humorous and timely book about an adorable fuzzy child who navigates bodily autonomy and consent. Great conversation starter.
$18.99

A Family is A Family is A Family by Sara O'Leary
A teachers asks children to think about what makes their families special. Even though what makes each family special is different, they are all full of caring people. $18.95

The Science of Babies by Deborah Roffman
A board book about bodies, birth and families that answers questions like "Where did I come from?" Matter-of-fact, with colorful illustrations. $14.99

What Makes A Baby by Cory Silverberg
An origin story for all families and all children, without gendering people or body parts. Most parents and families will be able to talk about how babies come to be without having to erase parts of their own experience. $18.95

Nine Months by Miranda Paul
A family of three spend nine months waiting for a new baby to join them. $8.99

A Child is Born by Lennart Nilsson
A classic book offering a glimpse of the world within the womb. Beautiful photographs. $26.00
__________________________________________________________________________________________________

Our Whole Lives Grades 4-6, Second Edition: Designed for use by parents, teachers and pastors with youth in grades 4-6. This 10-session program helps participants learn about and discuss the physical and emotional changes of puberty. The program offers accurate, factual information on human sexuality to preteens who need it to make responsible decisions and stay healthy.
It's Perfectly Normal: This is a companion resource to Our Whole Lives for Grades 4-6.  It includes information that augments what is taught in OWL, and is recommended reading in between workshops.
Our Whole Lives - Parent Guide, Second Edition: This guide is designed to help parents (and other loving caretakers) respond to children's questions and concerns about sexuality. Used for both the K-1 and 4-6 OWL resources.   
New!
Parents and Caregivers As Sexuality Educators:  (Free PDF Download)
Finally! A resource for parents and caregivers to explore their roles as primary sexuality educators of their children. Written with UCC prayer, scripture, and reflection pieces, this small group ministry format resource can be used with parents and caregivers of any age children or teens, and is customizable to your group's particular interest. Download your FREE copy today.

Our Whole Lives Grades 7-9, Second Edition
25 90-minute workshops


A sexuality education program for youth that models and teaches caring, compassion, respect, and justice. A holistic program that moves beyond the intellect to address the attitudes, values, and feelings that youth have about themselves and the world.
Topics include: body image, social media/internet, bullying/bystander responsibilities, and consent education, as well as values, communication, anatomy, reproduction, identity, orientation, and more. A facilitation guide offers suggestions for including youth with special needs in OWL programs. 
Our Whole Lives Grades 10-12: NOTE: Currently out of print. Projected date for publication of 2nd edition is June 2023
Comprehensive program for grades 10-12 that can be used in religious education programs by teachers and pastors with youth groups, weekend retreats, and youth conferences and camps. Its activities help participants make healthy, well-informed decisions about relationships and sexuality.
Our Whole Lives - Young Adults: (Corrected Reprint - July 2023)
Written by young adults for young adults, this resource will expand ministry to young adults in church, college and seminary settings. (14 sessions)

Our Whole Lives Adults: 12 workshops, plus introductory and concluding sessions, but adaptable for many formats.
Our Whole Lives Older Adult:  A holistic sexuality education curriculum for older adults. Comprehensive and progressive, this program addresses sexuality with sensitivity and respect for older adults' wisdom and life experience.
Email us 24/7/365 at store@ucc.org with any questions.
Copyright © 2023 UCC Resources. All Rights Reserved. All prices USD.


Privacy Policy