Be the Church - Graphics Kit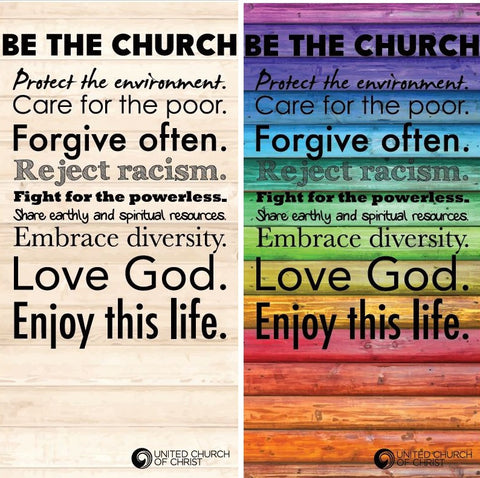 Sale
+ CLICK IMAGE TO ZOOM
THIS KIT WILL BE SENT AS A DOWNLOAD. NOTHING WILL BE SHIPPED. ONCE YOU PLACE YOUR ORDER, YOU'LL BE SENT A LINK TO DOWNLOAD YOUR KIT.
This kit of "Be the Church" graphics gives your church many ways to interpret the "Be the Church" message. Graphics in both original and rainbow designs and include new UCC logo. PDF format.

Customize your own:
Horizontal UCC Banner: 4' x 8' and 3' x 6' - new size!
Horizontal Non-UCC Banner: 4' x 8' and 3' x 6' - new size!

Vertical UCC Banner: 8' x 4' and 6' x 3' - new size!

T-Shirt  - Please note: this graphic includes text only; background not included.
Poster (24" x 36", vertical)
Includes complete graphics in PDF format. After you place your order, you'll be emailed a link to download your graphics kit. 
Click here for all "Be the Church" merchandise.
Email us 24/7/365 at store@ucc.org with any questions.
Copyright © 2023 UCC Resources. All Rights Reserved. All prices USD.


Privacy Policy